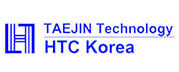 Genesis
Established in 2000, TAEJIN Technology Co. Ltd., or HTC Korea, is a renowned name in the Asian market and is now listed among the world leaders in the Power management IC industry.
Strengths
TAEJINís sales market includes China, India, Japan, Hong Kong, Singapore, and Taiwan. HTC Korea provides top-notch solutions across diverse sectors for meeting their digital requirements. It adheres to regulatory guidelines to ensure economic and environmental sustainability, such as manufacturing guidelines under ISO14001 system authentication and RoHS directives.
Products
TAEJINís key domains include consumer, communications, and computers. It thus does extensive research and development to fulfill consumer needs. HTCís popular products across sectors include switching voltage regulators and step-down voltage regulators.

Shiv Electronics is a leading active electronic components supplier and an independent distributor for key HTC products like Step-down Switching Voltage Regulators and LDO (Low Drop Out) Voltage Regulators in Mumbai (India).
Get in touch with us for more information and requirements.