The SIM28ML from SIMCom is a standalone, high-performance module with greater durability and reliability. Made with Surface Mount Technology this L1 frequency GPS module is a key component in various mobile designs.
The SIM28ML is an Assisted-GPS receiver with built-in LNA, i.e. it does not need external LNA. SIM28ML can track signals as low as -165dBm without network assistance. This module is enriched with the MediaTek navigation system, which enables it to achieve the industry's highest sensitivity, accuracy, and Time-to-First-Fix (TTFF) with the lowest power consumption. It consumes only 17 mA for acquisition and 16 mA for tracking.
The SIM28ML is also highly compatible with most navigation applications like Autonomous GPS, Quasi Zenith satellite systems (QZSS), and Satellite-based Augmentation Systems (SBAS).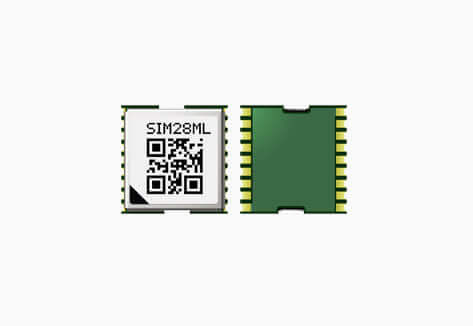 Details
Mechanical data
Dimensions: 10.1*9.7*2.5 mm
Weight: 0.5g
General features
Support EPOTM orbit prediction
Support SBAS ranging (WAAS, EGNOS, GAGAN, MSAS)
Support Jamming removing function
Low-noise amplifier has been integrated
Interfaces
Serial interfaces
Digital I/O
Protocols
Support Products
SIM68 EVB KIT with USB V2.0 full speed interface
Electrical Data
Power supply: +2.8V ~4.3V
Backup power: +2.0V ~4.3V
Power consumption

Acquisition: 17mA
Tracking: 16mA
Backup: 8µA

Antenna type
Antenna Power
Performance Data
Receiver type

22 tracking / 66 acquisition- channel GPS receiver GPS L1, C/A Code

Max. update rate
Sensitivity1

Tracking: -165 dBm
Reacquisition: -160 dBm
Cold starts: -148 dBm

Time-To-First-Fix2

Cold starts: 32s (typical)
Warm starts: 3s
Hot starts: <1s
EPO Assist: 13s (CTTFF)

Accuracy

Automatic Position3: 2.5m CEP
Speed4: 0.1m/s

Operation temperature: -40℃~+85 ℃
Certifications
Demonstrated in liberary
All SV @ –130 dBm
50% 24 hr static, -130dBm
50%@ 30m/s
@3.3V with a passive antenna

Shiv Electronics is a leading independent SIMCom distributor in India offers a wide range of SIMCom modules under one roof. Talk to us for all types of Wireless and GRPS modules.
Contact Us, to know more and to share your specifications.