The all new SIM7600C chip from SIMcom is an ideal module for wireless networking. It is a multi-band chip compatible with most major mobile communications standards such as LTE, GSM, HSPA, TD-SCDMA and EDGE.
Its biggest advantage is that it can support speeds up to 150 Mbps for downlink and 5.76 Mbps for uplink data transfer in LTE 4G. The SIM7600C is compatible with Windows 2000, XP, Vista, Windows7 and Windows8, making it more attractive and user-friendly.
This module has many usages in applications such as GNSS (Global Navigation Satellite System), Industrial Interface, RIL (Radio Interface Layer) Driver and USB. The SIM7600Cís strong extension capability with interfaces like USB 2.0, UART, SPI, PCM and GPIO makes it one of the finest SMT modules available in todayís market.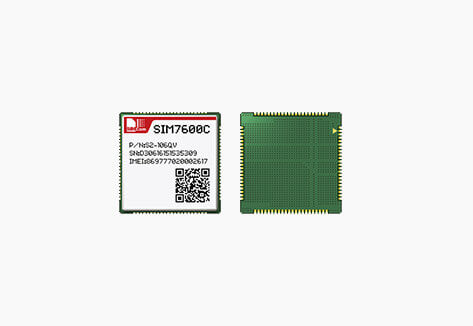 Details
General features SIM7600C
Quad-Band TDD-LTE B38/B39/B40/B41
Tri-Band FDD-LTE B1/B3/B8
Dual-Band TD-SCDMA B34/B39
Dual-Band WCDMA/HSDPA/HSPA+ B1/B8
GSM/GPRS/EDGE 900/1800 MHz
Control Via AT Commands
Supply voltage range: 3.4V~ 4.2V
Operation temperature: -40℃ to +85℃
Dimension: 30*30*2.9 mm
Weight: 5.5g
GNSS gpsOne Gen 8B;standalone;assisted,XTRA;
Specifications for Data transfer
LTE CAT4

Uplink up to 50Mbps,
Downlink up to 150Mbps

TD-SCDMA

Uplink up to 128Kbps,
Downlink up to 384Kbps

TD-HSDPA/HSUPA

Uplink up to 2.2 Mbps,
Downlink up to 2.8 Mbps

HSPA+

Uplink up to 5.76 Mbps,
Downlink up to 42 Mbps

WCDMA

Uplink/Downlink up to 384Kbps

EDGE Class

Uplink/Downlink up to 236.8Kbps

GPRS

Uplink/Downlink up to 85.6Kbps

CSD

GSM data rate 14.4Kbps
WCDMA data rate 57.6Kbps
WCDMA 64kbps CSD for Video call
Other Features
USB Driver for Microsoft Windows 2000/XP/Vista/Win7/Win8
USB Driver for Windows CE/Mobile
USB Driver for Linux /Android
RIL supporting for Android/Windows CE/Mobile
Automatic installation for windows
Linux API SDK
Firmware update via USB
TCP/IP/IPV4/V6 Multi-PDP,MT PDP
FTP/FTPS/HTTP/HTTPS/SMTP/POP3/DNS/MMS
DTMF
MBIM to Win8
Source code of the PC manager of the device for reference
Interfaces
USB2.0
UART
SIM card
SPI
I2C
Constant current sink
GPIO
ADC
PCM
SDIO
Certifications(Plan)

Shiv Electronics is a leading independent SIMCom distributor in India. Contact us for all types of Wireless and GPRS module requirements.
Contact Us, to know more and to share your specifications.