The SIM800C is an upgraded variant of SIM800. This module is designed to provide more flexibility and ease of integration for the customer's applications.
The SIM800C module ensures crystal clear transmission of voice, data information and SMS with low power consumption. The software features include embedded TCP, FTP, SMTP/POP3, SSL and Jamming detection.
The chip supports Real-Time Clock (RTC) back up applications, Jamming Detection, SSL Encryption, Antenna Diagnostics, RLS Monitoring, IVRS, Email, Bulk SMS, MMS and others. Moreover, it has strong extension capability with interfaces like USB 2.0, GSM Antenna Pad, Bluetooth Antenna pad, GPIO and ADC.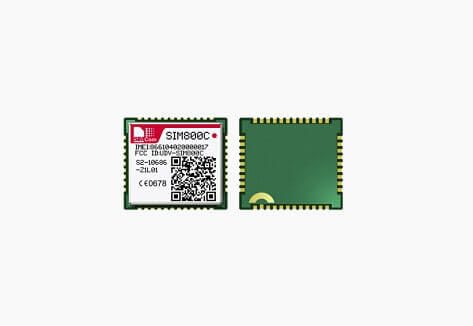 Details
General features SIM800C
Quad-band 850/900/1800/1900MHz
GPRS multi-slot class 12/10
GPRS mobile station class B
Compliant to GSM phase 2/2+

Class 4 (2 W @ 850/900MHz)
Class 1 (1 W @ 1800/1900MHz)

Dimensions: 17.6*15.7*2.3mm
Weight: 1.3g
Control via AT commands (3GPP TS 27.007, 27.005 and SIMCom enhanced AT Commands)
Supply voltage range 3.4 ~ 4.4V
Low power consumption
Operation temperature:-40℃ ~85℃
Specifications for GPRS Data
GPRS class 12: max. 85.6 kbps (downlink/uplink)
PBCCH support
Coding schemes CS 1, 2, 3, 4
PPP-stack
USSD
Specifications for SMS via GSM/GPRS
Point to point MO and MT
SMS cell broadcast
Text and PDU mode
Software features
0710 MUX protocol
Embedded TCP/UDP protocol
FTP/HTTP
MMS
POP3/SMTP
DTMF
Jamming Detection
Audio Record
SSL
Bluetooth 3.0(optional)
Specifications for voice
Tricodec

Half rate (HR)
Full rate (FR)
Enhanced Full rate (EFR)

AMR

Half rate (HR)
Full rate (FR)

Hands-free operation (Echo suppression)
Interfaces
42 SMT pins including
Analog audio interface
RTC backup
USB interface
Serial interface
Interface to external SIM 3V/1.8V
GPIO
ADC
GSM Antenna pad
Bluetooth Antenna pad
Compatibility
AT cellular command interface
Certifications
CE
FCC
GCF
TA
ROHS
REACH
CTA
CCC

Shiv Electronics is a leading independent SIMCom distributor in India offers a wide range of SIMCom modules under one roof. Talk to us for all types of Wireless and GRPS modules.
Contact Us, to know more and to share your specifications.