The SIM5360 series from SIMCom is a Dual-Band HSPA+/WCDMA and Quad-Band GSM/GPRS/EDGE module solution. It is ideal for HSPA (3G), WCDMA, GSM (2G), as well as EDGE (2.5G).
The SIM5360 is packed with advanced features for use across diverse customer applications. It offers speeds up to 14.4 Mbps for downlink data transfer.
The SIM5360 can be used in numerous technologies such as TTS, Embedded AT, SSL Encryption, LUA, and SIM Access Profile. It finds wide applications in GNSS (Global Navigation Satellite System), Remote control of appliances, Wireless sensor networks and Vehicle tracking systems. This module has required extension capability for interfaces such as UART, USB 2.0, SPI (Serial Peripheral Interface Bus), and 12C keypad.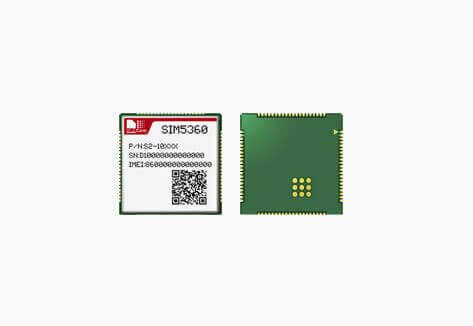 Details
General features SIM5360
SIM5360A

Dual-Band UMTS/HSPA+ 850/1900MHz
Quad-Band GSM/GPRS/EDGE 850/900/1800/1900MHz

SIM5360(J)E

Dual-Band UMTS/HSPA+ 900/2100MHz
Quad-Band GSM/GPRS/EDGE 850/900/1800/1900MHz

SIM5360J(D)

Output power

UMTS 850/1900: 0.25W
UMTS 900/2100: 0.25W
GSM850/GSM900: 2W
DCS1800/PCS1900: 1W

Dual-Band UMTS/HSPA+ 800(850)/2100MHz
GPRS multi-slot class 12
EDGE multi-slot class 12
Control Via AT Commands
Supply voltage range: 3.4V~ 4.2V
Operation temperature: -40℃ to +85℃
Dimension: 30 X 30X 2.9 mm
Weight: 5.7g
Quad-Band GSM/GPRS/EDGE 850/900/1800/1900MHz
Specifications for GPRS Data
CELL assistant Location (No GPS)
A-GPS: MS-Based, MS-Assisted
Stand-alone GPS
QUALCOMM XTRA GPS mode
GLonass
Specifications for Data transfer
HSPA+

Max. 14.4Mbps(DL), Max. 5.76Mbps(UL)

WCDMA

Max. 384Kbps(DL), Max. 384Kbps(UL)

EDGE Class:

Max. 236.8Kbps(DL), Max. 236.8Kbps(UL)

GPRS

Max. 85.6Kbps(DL), Max. 85.6Kbps(UL)
Specifications for SMS
Point to point MO and MT
Text and PDU mode
Other Features
USB Driver for Microsoft Windows 2000/XP/Vista/7/8
USB Driver for Windows CE/Mobile
USB Driver for Linux/Android
Firmware update via USB
Embedded AT
LUA Script Language
MMS
TCP/IP
FTP/FTPS/HTTP/HTTPS/SMTP/POP3/DNS
FOTA
Interfaces
USB2.0
UART
SIM card
SPI
I2C
Keypad(5*5)
Constant current sink
GPIO
RTC
ADC
SDIO
PCM *
Certifications
SIM5360A
SIM5360JE/JD
SIM5360E

CE
GCF
ROHS
REACH
CCC
CTA

Shiv Electronics offers a wide range of SIMCom products in India. Talk to us for your specific requirements.
Contact Us, to know more and to share your specifications.